This troop meets every Tuesday night at 7:00 p.m. In summer, they meet at a nearby camp building on Elkhorn Creek. For the rest of the year, they meet in Ascension's Parish Hall.
From the troop's Facebook page:
2016 was a great year for Troop 281. The troop earned the Gold Unit Award JTE, the highest award from the Blue Grass Council. The scouts earned 6 Scout ranks, 6 Tenderfoot ranks, 3 Second Class ranks, 1 First Class rank, 4 Star ranks, 2 Life ranks and 3 Eagle Scout Badges, in addition to over 100 merit badges. Scouts attended summer camp at McKee Scout Reservation and hiked several trails. We have one Den Chief, NYLT trained. All leaders are trained in their positions, and attend roundtables and district meetings on a monthly basis. We support the Blue Grass Council, Kawida Lodge events, and much, much more. We are a very active and boy-led troop. Anyone who has a son over 11 years old who is interested in scouting should check us out - see https://www.facebook.com/troop281ky/.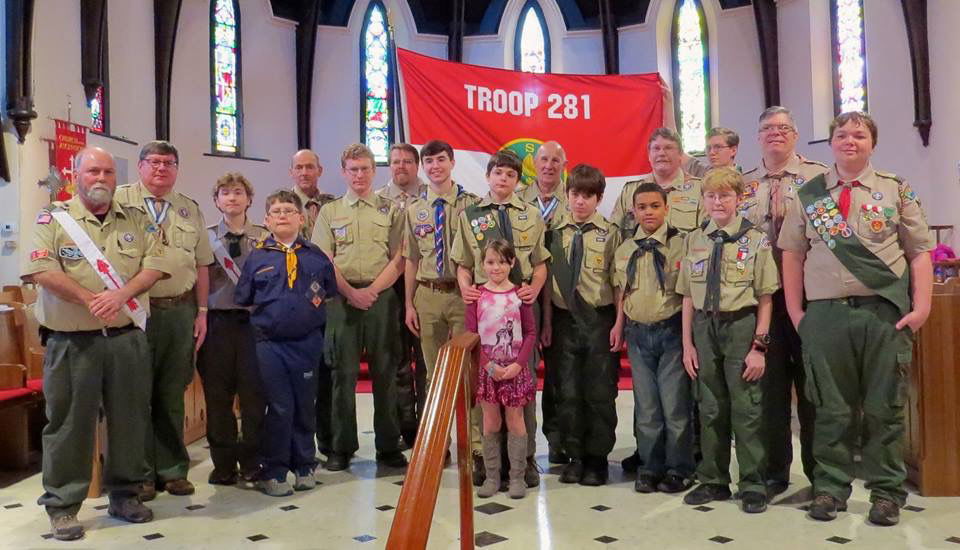 Troop 281 on Scout Sunday, 2017, joined by one Daisy Scout!