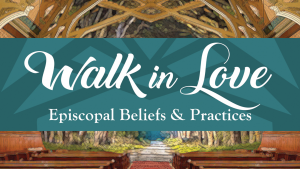 Monday evenings, September 21 – October 19, 2020
7:00-8:30 p.m. via Zoom
hosted by the Episcopal Diocese of Lexington
Walk in Love is an exciting opportunity to learn more about our Episcopalian way of life. Leading theologians will teach us about the liturgical year, habits of daily prayer, Anglican spirituality, and how prayer shapes our beliefs.
We will meet five times on Zoom, Monday nights from 7-8:30 pm September 21—October 19.
Each meeting will include short teaching sessions from leading theologians and small group discussions designed to help us see our faith in new ways and live more fully into it. There will be the opportunity to break out into parish groups with sufficient numbers, and we can help your faith community set up a small group within the course.
Please register using this link. Once you register we will send you confirmation of your registration as well as a participant packet that will have a detailed schedule, a link for the Zoom meetings, simple instructions on how to sign up for a free Zoom account, and the discussion questions we will use.
This class is based on the book, Walk in Love by Scott Gunn and Melody Wilson Shobe. The book is not required for this class but is optional if you would like to take your studies a bit deeper. If this interests you, the book can be purchased here.


Schedule for Walk in Love:
Monday, September 21—The Sacramental Journey
Monday, September 28—Marking Time
Monday, October 5—Basic Beliefs
Monday, October 12—The Church
Monday, October 19—The Trinitarian Life
We hope you will join us for this life-changing opportunity! Registration deadline: September 20.